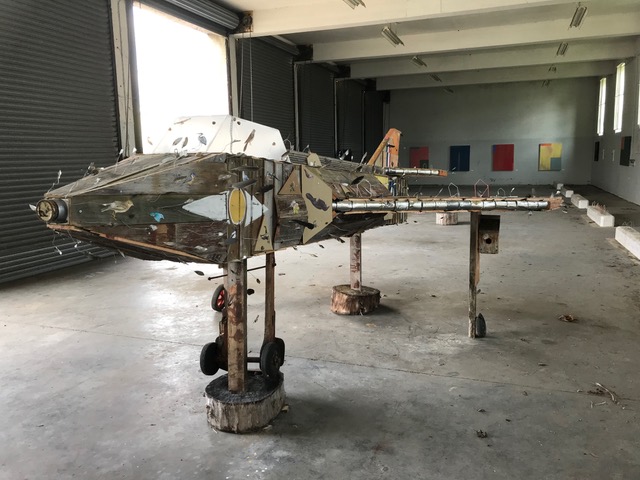 Locals soak up fun and culture at this year's Summer at the Beach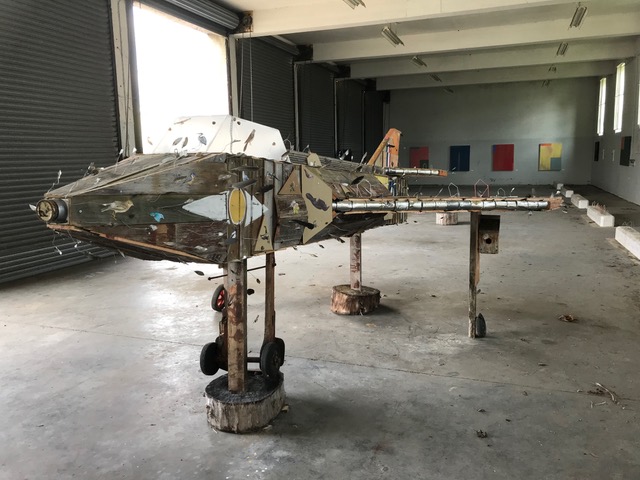 This year's Summer at the Beach proved to be the biggest and best yet, with over 700 people visiting Waterbeach Barracks over the first three weekends in July to celebrate local creative talent, enjoy a range of entertainment and soak up the atmosphere with friends and family.
---
The event is part of Cambridge Open Studios and local artists displayed a range of painting, prints, illustrations, photographs, sculpture, model making, ceramic, jewellery and millinery. This year, the 50 metres long terrace area that was used to store the Royal Engineers' vehicles, was transformed to showcase a number of fascinating art installations including a wonderful new sub aquatic sound and light installation with giant jellyfish by local artist Theo Gayer Anderson.
On the ground outside the garages, local artists also painted over what remained of last year's life size silhouette of a Lancaster bomber with a giant heron using gallons of white emulsion paint.
In addition to Cambridge Open Studio, Summer at the Beach hosts a range of different events and activities that brings together the local community – with something for all ages and interests.
This year saw the return of some old favourites, including The Great Nepal Book Swap with proceeds going to an orphanage in Nepal, Beach Sessions showcasing original live music and the Pop Up Café with a tempting range of home-baked sweet and savoury goodies.
Also, back by popular demand, was The Repair Café with a panel of volunteer experts fixing broken objects free of charge. Seven repairers were on duty and managed to give a new lease of life to over 50 items ranging from a hedge strimmer where the cables had been cut to a Soviet-era 1960s record player, a cassette Sony Walkman and a TV. There was also a seamstress on hand to restore clothes and haberdashery, sewing on buttons or fixing hems.
Paul Bearpark, Repair Café organiser and electronics expert, said: "The ages of the repairers and the people that come in are pretty broad – it's a community event that brings people together. Even if you don't repair someone's item, if you give them some advice and they feel like they've done their best to keep something going, that's progress. And everybody's incredibly grateful."
A graffiti art demonstration and inspirational spray painting workshop was also held in the terraces so budding young artists could learn techniques and put their skills to the test.
Other new activities at this year's Summer at the Beach included:
a 'Love Waterbeach' event in the village Baptist Chapel, where over 1,000 photographic images taken by local residents were projected onto screens and accompanied by a soundtrack of related noises collected and curated by sound artist and photographer Richard Youell;
an outdoor cinema behind the Watch Tower showing 2018 movie of the year, Green Book on the big screen – with a selection of street food, drinks, garden games, and live music to enjoy in the lead up to the movie;
Waterbeachballs Juggling Club showcased its talents and encouraged event-goers to put their hand-eye coordination and balance to the test;
a talk from local author Guinevere Glasfurd-Brown about her Arts Council commissioned placemaking project to record and document personal histories and people's memories of Waterbeach Barracks;
a Vintage Gaming Room, which enabled gamers to relive their lost youth on classic games systems including Atari 2600, Sega Megadrive, Commodore 64 and retro PC games.
Gideon Pain, local artist and event coordinator, said: "Summer at the Beach keeps growing and diversifying. It's fantastic to have an opportunity to showcase all the creative talents in the area, try out different events and activities, and inspire the next generation. We work hard to ensure there's something for the whole family to enjoy – whatever their age and interests – and we're already starting to think about what we'll bring back next year as well as planning a few surprises."
If you live locally and have an artistic or creative talent you would like to showcase at next year's event, contact Gideon Pain at gideonpain@hotmail.com.
More information on this year's events are available on the Summer at the Beach website www.summeratthebeach.co.uk.
Even if you don't repair someone's item, if you give them some advice and they feel like they've done their best to keep something going, that's progress.