As part of Urban&Civic's commitment to invest in local infrastructure to support the new development coming forward on the Barracks site, improvement works are planned to upgrade the junction and gateway to the village at the Denny End Road/A10 junction.
---
The first phase of these works will require two weekend closures of Denny End Road in October. This will allow for enabling works to re-route existing utilities services, the installation of a new culvert and drainage system and clearance of the verge on the north side of the road – the Barracks side.
The closures will be in place from :
8pm on Friday 7 October to 8pm on Sunday 9 October 2022
8pm on Friday 21 October to 8pm on Sunday 23 October 2022
Traffic Management during works
During the closures a diversion will be in place which will route traffic through the village via Car Dyke Road. To manage the flow of traffic through the village, traffic light systems will be in place at the A10 junction. Details on the diversion are outlined below.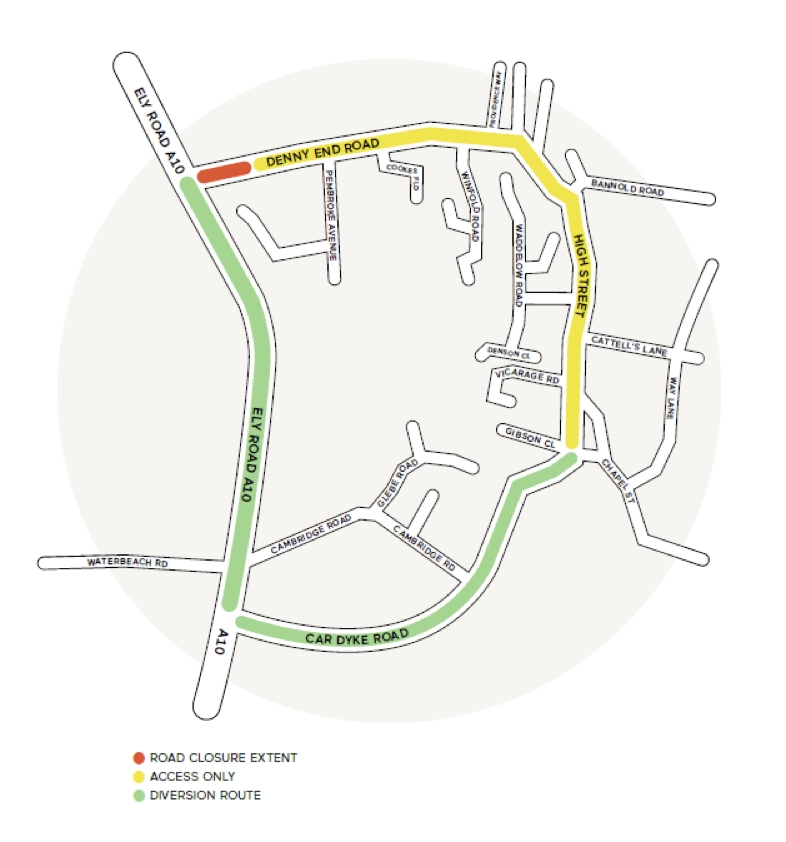 No disruption is currently anticipated to services for businesses or homes in this area, but we do apologise for the inconvenience and impact caused by the road closure. The work has been scheduled for the weekend to minimise the impact on the village.
The noisiest work will be carried out at the start of the works, during the evening of Friday 7 October, but it is not anticipated this will impact on residents. The team at Breheny and Urban&Civic will be working hard to monitor and minimise any disruption and will ensure we can respond to any issues that emerge in a timely way.
If any issues arise, please contact the Breheny out of hours team on 07732 316 937.
To find out more about the works in general or for any other reason, please contact the Waterbeach team on the details below:
Email: waterbeach@urbanandcivic.com 
Phone: 01223 622 533.