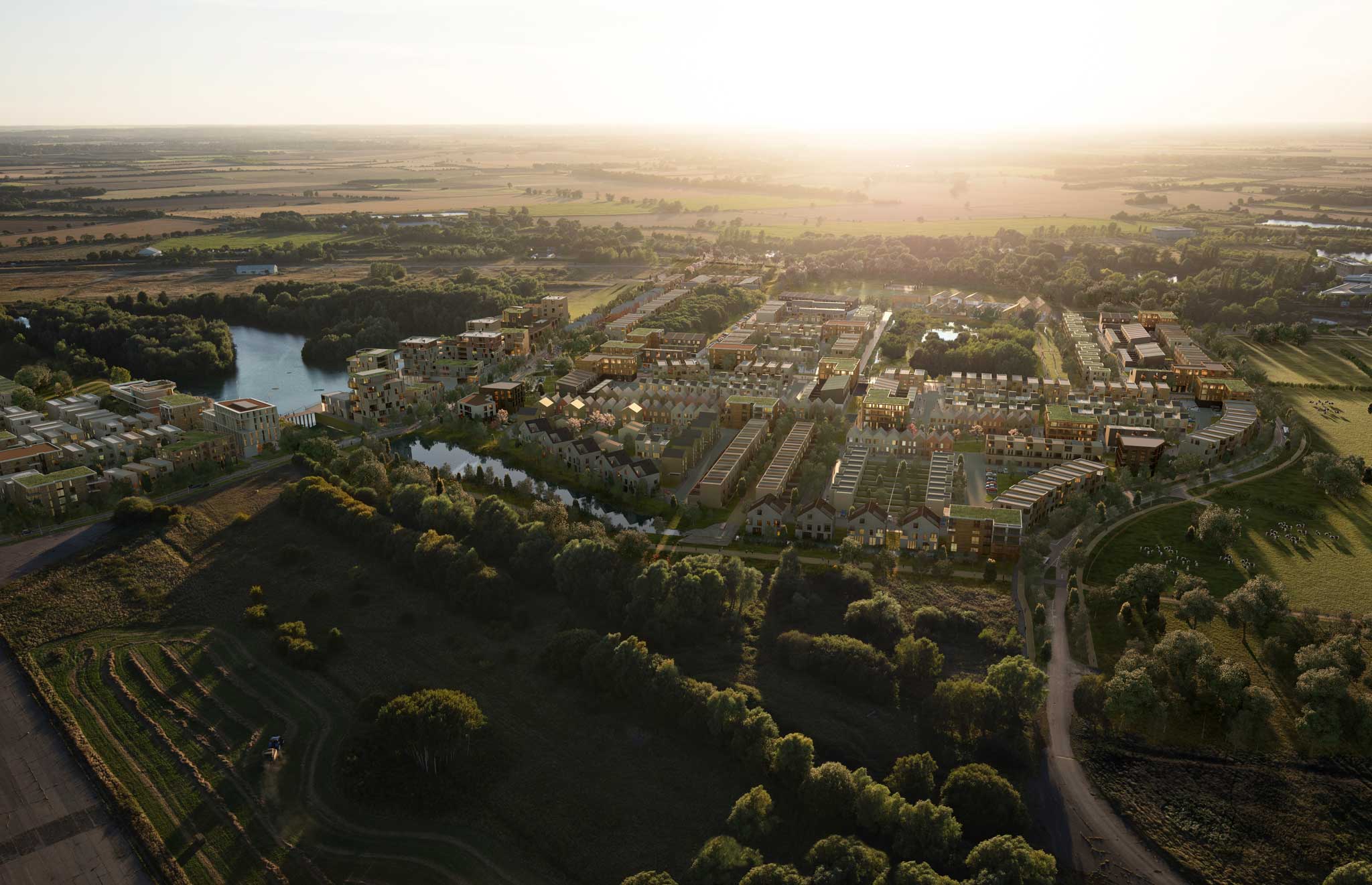 Stonebond Properties to deliver the first homes at Waterbeach Barracks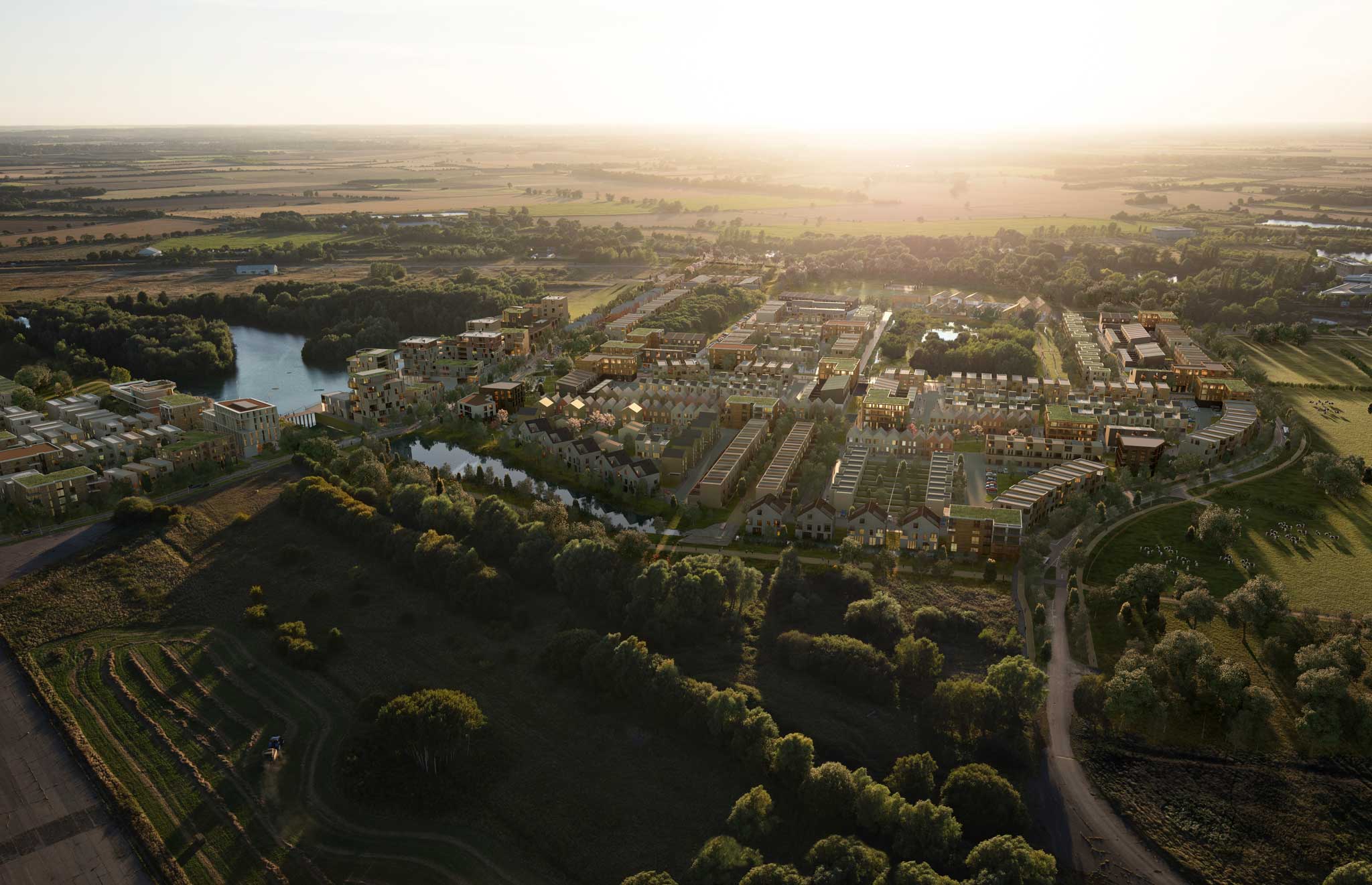 Urban&Civic is pleased to announce Stonebond as their first housebuilding partner, as it begins its transformation of the former Barracks and Airfield at Waterbeach to create a new community of 6,500 new homes. The premium housebuilder will deliver 88 new homes at the gateway to the new development, including apartments and houses ranging from one to four bedrooms.
---
The Stonebond homes – apartments and houses built in mews, terraced styles and larger detached family homes – will be framed by mature woodland on one side and connected to water features and woodland walks to play areas on the other. The homes will also be a short walk away from the new primary school, designed within a safe, car-free area surrounded by woodland, which will open in September 2023.
Sustainability Commitments
The wider sustainability commitments for the development are echoed by Stonebond's approach to delivering homes. The company promotes a "fabric first" approach, which has multiple benefits including reduced energy use, improved temperature control and lower running costs. This approach looks to reduce the amount of C02/m2/year by at least 10% compared to current building regulations. No gas will be supplied to the development, in line with the Government's drive to eliminate gas from homes by using sustainable forms of energy.
Sustainable methods of transport will be encouraged, with electric vehicle charging points installed. Lower water use is also promoted, whilst rainwater butts will be fitted for water harvesting and reuse within public spaces. Stonebond will also be working with Urban&Civic to support local suppliers and sub-contractors where possible throughout the build of its homes.
Innovative Affordable options
Stonebond's properties will include 28 homes that reflect the full and innovative range of Affordable Housing tenures developed with South Cambridgeshire District Council's Housing team as part of a commitment to ensuring the Waterbeach development provides homes for people with all levels of income.
Graham Cherry, Co-Chairman of Stonebond, said: "Waterbeach is set to become a major new community just a few miles from Cambridge, with a wide range of new green spaces and associated infrastructure and facilities alongside the homes. We are honoured to the first housebuilder to come on board, and the location of our quality homes will really help set the tone for what is sure to become an outstanding new place to live, work and socialise. We anticipate that the first homes will be for sale in autumn 2022 and we're looking forward to working closely with Urban&Civic as the project moves forward."
Working in partnership
Caroline Foster, for Urban&Civic, said: "Stonebond is the perfect first partner to start our first homes at Waterbeach: bespoke designs, delivered by a vastly experienced team and, most importantly, with a shared commitment to sustainability and to enduring quality.  We have worked hard with partners through the planning and urban design process, landscaping and ecology, to set a high bar for this development. Alongside the work we have begun to create an incredible setting and school, I know Graham and his team stand equal to our ambition in delivering well designed, sustainable homes for people to set down roots here. Environmental and biodiversity passions run through every layer: from swift bricks to energy efficiency ratings, and mature woodlands to a primary school nestled in nature.  Waterbeach is going to be absolutely extraordinary."
Owned by the Ministry of Defence the Barracks and Airfield is part of an innovative partnership with Urban&Civic appointed as development managers. James Ryley, Principal Estate Surveyor for the Defence Infrastructure Organisation, added: "This is an important milestone in the transformation of Waterbeach from a redundant barracks and airfield site into an exciting and high quality place to live. With our partners, we are playing our part in the Government's housing agenda and doing so in a way that supports sustainable and healthy living."
For more information visit www.stonebondproperties.com
This is an important milestone in the transformation of Waterbeach from a redundant barracks and airfield site into an exciting and high quality place to live.